Homeowners might wonder if it's safe to ask for a window replacement during winter.  And our resounding answer is yes. You shouldn't worry about getting your windows replaced at any time of the year, and the cold season is no exception. In fact, if you think that your windows are already malfunctioning, then you shouldn't hesitate to speak with a contractor about getting them replaced if need be.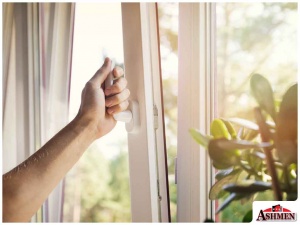 In this post, your trusted window and roof replacement pros at Ashmen Installations, Inc. discuss what goes into window replacement during winter and why it's beneficial to do so.
Best Practice for Winter Window Replacement
As with most contractor jobs, however, installing windows during the winter has to follow a very specific process. This process is in place for several reasons. Firstl, this will reduce the amount of exposure to the elements. Secondly, this will make the installation faster, especially if you are replacing multiple windows.
Ask your roofers and home improvement contractors about their process. The right way to do this is to replace each window one by one. This will reduce how much time your home is exposed, and limit the number of air leaks in your home during the entire process.
And as far as limiting air leaks is concerned, you can mitigate this even further by covering any exposed window frames with a plastic sheet. This will further seal your home from the elements during the installation proper.
Benefits of Replacing Windows in Winter
Are there any benefits to be gained if you get your windows replaced during winter? Again, the answer here is yes.
The biggest benefit is that you won't have to vie for the attention and time of your window and roof installers. That's because the likelihood of other people asking for the same service is very small, so you won't have to be competing for the attention of your contractor, so you're likely to get serviced faster.
Since a lot of these contractors will also be experiencing fewer orders, they're more likely to provide discounts for services during this season. So you may even score a lower price for your window replacement.
And the last benefit to be gained from this? Lower energy bills due to improved energy efficiency, courtesy of your new windows!
Trust Ashmen Installations, Inc. for quality window replacement services. We will be happy to discuss your window replacement job with you-–at any time of the year. Call us at (877) 274-6361 or fill out our contact form for a consultation.